The Vermont Marble Museum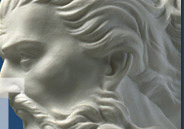 Marble is an important Vermont natural resource! We hope you enjoy our introduction to the exhibit. It's your connection to the history, science and art of Vermont Marble! We have been presenting the past, present and future of marble, as used in art, as building material and amazing world of everyday uses for more that 20 years!Marble in History
Learn the history of marble. From fascinating ways of quarrying it to famous places Vermont Marble is being used.
Marble Elegance
Our gift shop features hundreds of items that make unique and beautiful gifts that last a lifetime.
Group Tours
We offer a full plan for tour-buses, Elderhostel, and school groups to the museum. We offer reduced rates to groups of 20 or more! Smaller groups, families and individuals can book ahead for reduced rates! Click here to learn more..
Calcium Carbonate?
Together with Omya, our neighbor in Proctor, Vermont, and the premier producer of ground Calcium Carbonate (marble) products, we have opened a new educational room on the current uses of Calcium Carbonate in the Paper, Pain, Plastic, Food and Pharmaceutical Industries - for example, Chewing Gum & Toothpaste, ....you'll be surprised!
Take a walk to the Sutherland Falls Quarry Site.
We recently completed the walkway to the original "Sutherland Falls Quarry", 1/8 mile down the road. You can walk or drive and view the original quarry.
For more information about the quarry click here.
Plan to visit us!
The best places to stay near the museum when visiting are
Since we're located in Central Vermont, the exhibit is easy to reach from all major vacation travel routes.
Marble in Art
Visit our art studio and Gallery. Meet our resident artist and view many fine works.
A Statement from the
Executive Director
of the Preservation Trust
of Vermont
At the end of 2012, Preservation Trust of Vermont was able to take the first significant steps to keep the Vermont Marble Museum open and operating in Proctor, Vermont. This includes the acquisition of the museum displays, including the rare glass negative collection, and the gift shop.
The Vermont Marble Company had an enormous impact on the built environment of our nation. Largely quarried or carved locally, marble from The Vermont Marble Company was used in the Jefferson Memorial, the US Supreme Court Building, the Tomb of the Unknown Soldier as well as hundreds of other monuments and memorials all over the world. The museum and archives hold the stories of these projects and the marble industry.
The Vermont Marble Museum is located in Proctor, Vermont's only "company town." Founded in the late 19th century, the town was established and grew hand-in-hand with the Vermont Marble Company. For the people of Proctor today -- many descendents of the Italian, Swedish, Polish, German, Hungarian and other immigrants brought in to work in the factory -- this museum is their history.
Other popular accommodation deals in Vermont
The Preservation Trust of Vermont's goal is to acquire the museum building, transfer ownership to a non-profit organization and create a publicly owned asset.
While we still have a long way to go, we are very grateful to supporters who helped us to get to where we are today.
Sincerely,
Paul Bruhn
Executive Director
For additional information visit our website.
Recent Posts

Snowflake lesson for you and your kids!

See Vermont Marble on the National Geographic Channel this Wednesday Sept. 26!

Update! Model T Ford Club helps in saving Vermont Marble Museum!

Saving Vermont Marble – high hopes! Support us by visiting this summer – opening Friday, May 25th

Vermont Marble Museum Last Season! Closing mid October 2012
Himalayan Salt Licks for
Horses now available at VermontLifestyle.com