This is the San Juan Islands, Washington!

Hello, and welcome to the San Juan Islands Washington, and my website about this beautiful place, the place I call home. I created this site as an online Island tour guide to accompany you through the Islands, show you how to get here, where to stay or camp, and where to eat. Once you're here, what's there to see? Explore the parks and beaches, visit some unusual museums and bookstores, and go boating or kayaking, hike the trails and paths all over the Islands, and, of course, see some Orca whales! You can visit Roche Harbor, a destination all its own, and learn about the gulf islands, and get a 'virtual' understanding of the beauty of our Northwest setting. Check them all out: San Juan Island, Orcas Island, Lopez Island, Shaw Island, as well as a few of the lesser-known islands in the archipelago.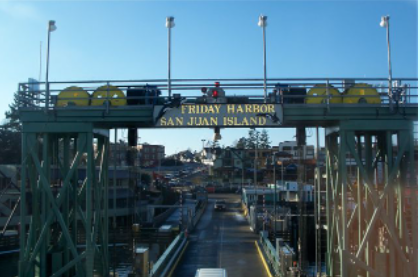 But, wait a second... why does my opinion matter? This area is already well known, written about in all sorts of books and websites. What makes my advice and tips worth reading? It's simple: I live here. I am not a hotel, a company, or a corporation. I live, work, shop, and take walks here. What's more, I pay attention. With more than 40 years of Island experience and perspective, I have learned the ins and outs -- Washington state tourism, San Juan hotels, San Juan restaurants, some great Island shops and products, plus what to see and how to see it. All that, and many many details -- and, as they say, life is in the details.
What I like most is the solitude, something that's not always easy to find in this very busy world. The forests and beach scenery is pretty great, too, along with so many other things, as you will soon discover.
Here is the nutshell version: explore hundreds of miles of beaches and forests, home to the Red Tailed hawk and three Orca whale pods. The town of Friday Harbor has awesome gift shops, a movie theatre, three museums, three book stores, a bowling alley, and neither "Fast Food" nor traffic lights. We do have stunning picnic spots, walking and hiking trails, breathtaking view points, a few dozen geocaching locations, and a variety of scenic drives for sightseers. And Oh! you have got to see the night sky for yourself. The stars are brighter than belief!

So, have a look around, see what sparks your interest. I'll guide you through the beach scenery of the Islands, the local many Washington State Parks, hiking trails, and introduce you to the San Juan restaurants, with first-hand advice and practical ideas that will help you create your perfect Island visit! Click romantic-vacations-destinations.com for ways to make your time here the ultimate romantic get away. Come to the Islands, where you'll find a slower pace amidst the sometimes craziness of mainland life. If you need a break, this is one place to look.

How to get here? Click the following relevant links to all information you will need about the Washington State Ferry, Kenmore Air, or Amtrak train travel.

Where to stay when you arrive?
See the best San Juan Islands hotels in my opinion:
Point Your Friends Here or Link to this Page
Like what you see here? If you'd like to tell people about this page, copy the code below and paste it onto your site, blog, or forum. Copy this:
The results of posting the code above on your site should look like this:
Check out the San Juan Islands Washington!
Get a local's recommendations about the beaches, trails, restaurants, and hotels of the San Juan Islands Washington, and get the best tips on where to watch for whales!
Plants & Animals
Orca Whales

Island Animals

Birding

Flowers to Trees

A Tide Pool
Recreation
Kayaking

Boating

Hiking

Outdoor Fun
Island Life
Beaches

Parks

Farms

Artists

Conversations

Gardening

Cool Facts
Lodging & Camping
Lodging

Camping

Boat Camping
Food & Drink
History & Reference
The Islands

Maps

Museums

FAQ
Business & Shopping
Travel Gifts

Island Bookstores

Real Estate
Celebrations & Events
News & Calendar

Island Weddings
Travel
Island Tips

Getting Here

The Great Northwest
About this Site
Site Search

Blog San Juan

Contact Us

Tell your story