Mitchell County is Open for Business!

Highlights


Follow us!

Chamber Members: Submit your events !


Upcoming Events:
Check out our Calendar of Events to see what's happening

Mitchell County has a friendly business climate for a company of any size, offering a quality of life that is unbeatable, an award-winning hospital, a leading community college, and an able and dedicated workforce. The county has a diverse economic climate with sectors ranging from a vibrant community of artists and craftspeople to one of the world's most advanced mining industries.
The Mitchell County Chamber of Commerce works to facilitate a favorable economic environment in the county and surrounding area. The hundreds of area businesses who are members of the Chamber have made an investment in our community and support the Chamber's ability to fulfill its mission.
Our members offer a variety of products and services. Be sure to visit our Member Business Director to see which local business can best meet your needs.
List of places to stay in Mitchell County see here:
Download our newest publications now!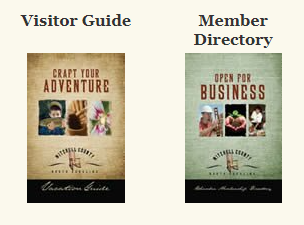 Craft Heritage >

Adventure >