Disneyland 2016
Meet Carolynne
My name is Carolynne. I am 27 years old, living in Calgary and am an extremely PROUD Canadian! I am married to the love of my life, Peter and we are expecting our first baby in November. My favourite thing to do is watch movies and cross stitch. I also enjoy going out to the theatre to see various plays and musicals. My favourite place in the world is Disneyland/Disney World! For more about me, please go here.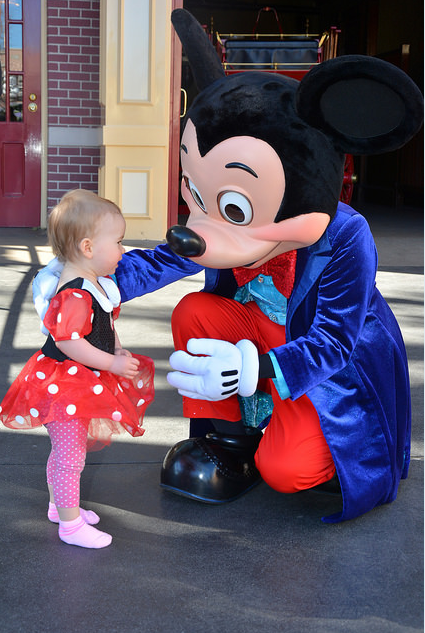 Feb 15
Mon '16
Disneyland 2016
Ezri & Mickey Mouse = Best friends forever


Ezri and I just returned from a vacation to Mesa, AZ and Disneyland!! We flew to AZ to meet my parents who had been snow birding since late December. Spent a few days in Mesa then we all drove to Disneyland for a few more days. Peter had a business trip at the same time and so he didn't join us. Despite missing him, Ezri and I had a fantastic time!
Grandma & Grandpa were SO happy to see Ezri after a month away!


We stayed at a 55+ resort in Mesa and it was great. There were so many activities to participate in and lots of things to see. We did aqua size and then got to take Ezri in the pool afterward. Besides chilling at the resort, we spent a lot of the time shopping. The states has so many different stores and products that we don't have in Canada.
If you are in Mesa, I advise you to these hotels
First outdoor pool


We also went to an Olive Farm called The Olive Mill. We took a tour and learned how they make olive oil. The most important thing we learned was to always buy Extra Virgin olive oil (EVOO) or else it contains "caca," which is basically the olive slop. Just a little tip! The flavours of EVOO I bought are roasted garlic, basil, Parmesan cream and a chunky vegetable oil based hot sauce paste. Can't wait to start cooking with all the deliciousness!!
Fun in Mesa, AZ
Ezri had a couple bad nights while in Mesa, but it was mainly due to the fact she had just got a cold before we left for vacation. It is tough to sleep when you can't breathe. I caught the same cold and we unfortunately passed it onto my Mom. My Dad thought he was getting it but he didn't. Thank goodness. Anyway there was one night she was up for 2.5 hours. It was horrid. All in all though she did pretty well in the sleep department for being away from her normal routine.
We drove to Disneyland and the 7 hour drive went really well. Ezri slept a couple hours, watched princess and the frog and the little mermaid and had a few snacks for the rest of the time. I was sitting next to her so if she started to get antsy, I distracted her
60th anniversary!


We had 2 days in Disneyland and 1 day in California Adventure. It went by fast!! Doing Disney really is so much different with a baby. It was fun to see it through her eyes. She was awake for the nighttime parade and was fascinated by the lights. Unfortunately the fireworks were cancelled due to wind on the night we wanted to see them, so that was disappointing. She went on a few rides and seemed to like the ones she went on. We tried to go on the rides she was too small for while she was napping. Her absolute favourite thing was meeting the characters. She got so so so excited!! I was a little worried because she had such freak outs with Santa Claus. But I had nothing to worry about. She met Minnie, Mickey, Pooh and Tigger. Such a lucky girl!! After meeting Mickey, we sat nearby and let her watch him for awhile. So entertaining.
Fun in Disneyland!!


The Haunted Mansion was closed when we were there in September so I was really happy to go on that this time around! Indiana Jones and Pirates of the Caribbean were also awesome!! In California adventure I went on a ride that I've refused to step foot on for years: the Tower of Terror. It's a ride that takes you up in an "elevator" and then drops you multiple times very quickly. I was expecting the drops, but I was not expecting it to shoot us up just as fast. Whew. I held onto my Daddy's arm for dear life, all the while screaming. He was laughing and having a great time. It was so scary, but maybe, possibly, I might go on again in the distant future.
I introduced my Dad to Earl of Sandwich and he loved it. He says that he would definitely go back one day.
Ezri ran around in the grass for the first time. She's sat on grass before, but this was her first time being able to walk on it. She was very tentative about going from grass to pavement. Almost like she was scared of the grass at first. It does have a different feel under your feet, so I don't blame her. It was so cute.
We definitely had a great time in Disney and Ezri slept much better as she was over the brunt of her cold. We had our own little room attached to the room my parents were in, so that was pretty neat.
On the way home from California, we got a whole row to ourselves! So Ezri was able to stretch out a bit more and she loved playing with the kids behind us. She slept for just over and hour in my arms while I watched hotel Transylvania 2 on my iPad.
It was very nice to see Peter again with when we go home for sure. Ezri sure missed him. She didn't even want to be held by me for awhile because she only wanted Daddy. So cute.
Peter and I hope to go on a family vacation together in May, so that will be something to look forward to!
5 Comments
Jan 5
Tue '16
Goals for 2016
I'd just like to ask a simple question: where did 2015 go?! It was seriously one of the fastest and busiest years of my life. It was also the best year of my life! Ezri has completely change my life and I wouldn't ask for anything different!! Life is definitely great. Anyway, Happy New Year to everyone! It's only the 5th of January and I feel like the year is almost over! Ha. No, not really, just a busy, busy life. I'm not even working very much for this month because my babysitter (my Mom) is away in Arizona for the month. I am picking up a few shifts on the weekend when Peter is home, but that's about it. I'm not complaining, I like being at home with Ezri anyway.
As for last year's goals, I pretty much failed. Yes, I joined a new gym, but I stopped going after a couple months. Sad because it's such a nice facility. I am still a member so I can still get going again. I tried to drink less diet pop and it worked for a bit but I found myself drinking more than one quite often. Eating out habits changed a bit. We very rarely go to dine in restaurants and seem to have become those people who order delivery! I never thought that would happen. However, I do cook quite a bit and I like to make sure I know what goes into the food that I am feeding Ezri!
So, for 2016, here are some goals I am hoping to achieve this year!
1. Spend more time cross stitching. I have let it fall by the wayside and it makes me sad. I think about picking it up to do it but then I find something else to do. When I do bring it out, I only do about 20 stitches and then I stop or get distracted. It's sad because it used to be my absolute favourite thing to do!! Also, I've started knitting and I want to do more of that as well. I want to dedicate another post towards the whole knitting thing so more on that later.
2. Keep the house a little more organized. I tend to drop everything on the kitchen table and leave it there for days. I want to get things put away right away and have less clutter! I try to put Ezri's toys away at the end of each day so it's nice and neat for the morning. I will try to keep that up! Soon I hope Ezri will learn to do it herself LOL.
3. Try to be healthier. I sat on the couch A LOT in 2015 and it needs to change this year. Yes, I was sitting because I had a baby attached to my boob for most of the year, but that's not an excuse anymore! It's time to start getting healthy again so I can set a good example for my daughter!
4. Drink less pop, more tea. I have a plethora of different teas in my cupboards but I never seem to drink them. So I want to try to get into my stash and enjoy what I have at my disposal. Plus, tea with milk is just devine!!
I still want to write my usual year in review post, but I just haven't had the time. I will definitely start working on it and hopefully have it up by the weekend! Haha, maybe. Just wanted to pop in and say hello and set out a couple goals for the year!
8 Comments
Dec 20
Sun '15
Well that sucks…
Something terrible happened. One of my favourite, most important, special friends almost left me forever on Friday. Was there one second and then all of a sudden gone the next, or so I thought. Of course I am talking about my good old iMac computer. I call her a friend because she is such a huge part of my life. I do everything with her. She is like a life line. Seriously.
I was working on a website for a client on Friday night when all of a sudden my screen went blank. White emptiness all across. I was shocked. What the heck happened?! I was just minding my own business and my world was turned upside down. I tried to press escape and any other keyboard shortcuts I could think of. Nothing. It was late so I turned the computer off (had to hold down the power button 
Okay, I know I'm being a little dramatic. However, when I paid almost $3000 not even 5 years ago for a computer, I did not expect it to die so soon. I made an appointment for the Genius Bar at the Apple Store as soon as I could. I took it in this morning. Two out of there of the initial tests they tried failed. That made them think it was the hard drive or board (or both) that needed to be replaced. Some of the repairs could be over $1000. So I was faced with a hard decision. Do I let my friend go and buy a new computer or do I have her repaired? They performed one more test and discovered the video card was dead. Great more things to go wrong. That repair was $700, a little more reasonable than $1000+, so I said to go ahead. However, something else may still be wrong. So I left my good old friend with the pros and went home, hoping for the best.
I waited with baited breath for the phone to ring, afraid of what they were going to call with. How much more could I fork out before I ultimately just bought a new computer?!?
THE GOOD NEWS: they didn't call. Instead, I received a pleasant email a couple hours later informing me that my newly repaired computer was ready for pick up. PHEW! So only the video card had to be replaced.
When I got home, with a little less money in my pocket, I was very happy that I didn't even have to reload my backups as nothing was erased. However, I am still so thankful that I regularly back up! If you don't back up, DO IT NOW! You never know what can happen! Things change in a second.
So despite the drama of the day, I am glad to have my friend back at home where she should be, safe and sound. I hope she continues to be a good old reliable partner for many years to come.