ARKANSAS MISSOURI RAILROAD
ARKANSAS MISSOURI RAILROAD means more than Great Freight! From comprehensive Warehousing facilities, to one of the region's best-equipped Engine Shops and Car Repair Departments, Arkansas-Missouri Railroad has grown to meet the day-to-day operational demands of any modern rail operation.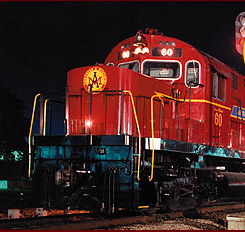 Click here for the full story behind Arkansas Missouri Railroad.
LOOKING FOR A SPECIFIC DEPARTMENT OR PERSON AT ARKANSAS-MISSOURI RAILROAD? Click here for a who's who at Arkansas-Missouri Railroad, including a comprehensive E-mail Directory, and Important Numbers for each department.
LOOKING FOR INFORMATION ON EXCURSIONS AND PASSENGER TRAIN TICKETS? Whether you're looking for a fun family activity, or interested in reliving a part of rail history, we have a fun package for you. Click here for the latest Schedules, Timetables, Ticket Prices and more...