Alaska Fishing Lodge Adventures

The Lodge

Fishing»

Rates

LocationAlaska Fishing Lodge Adventures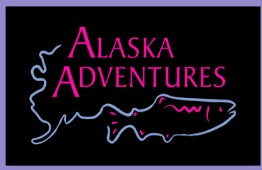 Alaska Fishing Guides

Our Equipment

Contact US

Travel
The Premier Fly In Fishing Lodge On The Alagnak River
Home» Alaska Fishing Lodge Alaska fly Fishing lodges
Alaska Adventures Lodge
Alaska Adventures Lodge Video
Alaska Fishing Lodge Adventures
Experience Alaska Adventures the premier wilderness fly in fishing lodge,specializing in Salmon fishing trips. Our top Alaska fishing guides specialize in Alaska flyfishing for trophy Salmon and wild Rainbow Trout. Our home river the Alagnak has over 2 million Salmon returning each summer. We can offer our guests an Alaska fishing trip or Bear viewing adventures tour of a lifetime.
Alaska Adventures Premier Fly In Lodge
Our modern Alaska flyfishing river is located in the heart of the Katmai National Park 40 miles NE of the town of King Salmon, World famous for Salmon and wild Trout fishing trips and bear viewing tours. Our fly in adventure lodge accommodates 16 guests comfortably with a private carpeted river front Panabode cabins that accommodates 2 or 4 guests. Amenities include a main dining room and recreation area offering a tv-dvd player, satellite phone for your safety and a fly tying area fully stocked for your use, along with modern hot showers, flush toilets and a traditional Alaskan wood fired sauna to top off your week adventure vacation.
Watch our Trout Fishing Bear Viewing video
Fishing on the Alagnak River
Our FlyFishing and Bear viewing adventures lodge sits on 160 acres of pristine land with 3800 ft of private river frontage on the nationally designated wild and scenic Alagnak River. This unique wilderness adventure allows you to experience a true remote fly in atmosphere without the crowds associated with Salmon trips or bear viewing tours off the road system. Alaska Adventures lodge offers world class Alaska trips for rainbow trout, arctic char and grayling 40 yards from the main lodge with extra fishing before breakfast or after dinner on your own. We offer fishing trips for all 5 salmon species awaiting for you at our fishing lodge's doorstep with unlimited adventures 20 hours a day.
Full Service Adventure Vacations in Katmai Park
AA is a full service adventure travel and has been offering discriminating Sportsmen and there families true wilderness Adventure Vacations for the last 27 years. Our Adventures include Overnight Wilderness Rafting Trips, Bear Viewing Photography Workshops and for the budget minded rustic flyin Safari tent camps. Alaska Adventures trips start at $300 for a extreme Safari camp to $800 per day at the lodge with meals, lodging and guided adventures.
More lodging in Alaska
Alaska Resources
Alaska Bear Viewing

Alaska Fly Fishing

Alaska Fishing Lodge
Contact Us
Alaska Adventures
462. Teal Way
Kodiak Alaska 99615
CALL: 907-512-0810
(c) 2012 Alaska Adventures